President
Daniel Tolomay
I have been a member of the IBEW since 2000, initiated originally into IBEW, Local 305. In Oct. of 2005 I became a FNFT at Verizon and a member of Local 723. In April 2009 I became a steward. I wanted to be more involved with the local, so in Dec. 2009 I applied for treasurer and was appointed. I was elected Vice President in June 2011 and re-elected in June 2014. In Jan. of 2016 I was appointed President by the locals E-board. I have attended the IBEW 6th District Arbitration Institute in 2013 at the University of Illinois. I have also attended classes with Indiana University dealing with FMLA, labor History, and worker rights. I have been appointed as a delegate to the AFL-CIO's Next-Up young workers summit and also attended IBEW's RENEW International conference in 2015. I was appointed as the local's registrar in 2014 where I remain very active in state and national labor legislation. I currently work at Frontier Communications as a Sales And Service Tech II -copper (SSTII –copper). I am also chief steward for the Ft. Wayne area for Frontier. I am proud to serve all of my brothers and sisters at IBEW, Local 723.
I live with my wife Kelly and my son Nicholas. When not working I enjoy fishing, camping, and spending time with my family and friends.
Vice President
Katie Adams
I have been employed with Frontier since 2009 in the Fort Wayne residential call center. I became a steward in 2014, and really enjoy the job. In 2015 I was appointed as a delegate to the AFL-CIO's Next-Up young workers summit and also attended the IBEW's RENEW International conference in Chicago. I live at home with my husband Erick and 3 children
Treasurer
Amanda Ramsey
Recording Secretary
Michael Anderson
Executive Board Member Unit 1
Jason Pilson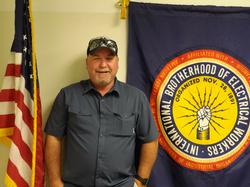 Executive Board Member Unit 2, Chairperson Dennis Page
Dennis has been a Chief Steward for Unit 2 in Carmel, IN. since the Verizon CFS was organized in 1999. I have been an Executive Board member since 2005. I am a 20 year Air Force veteran, married with 3 children and 13 grandchildren.
Executive Board Member Unit 3
Tim Brooks
Tim has been employed by Verizon/Frontier Communications for 7 years in the capacity of CZT II and Lineworker, currently a Lineworker in Terre Haute, IN. He was initiated into the Local Union in January 2006 and was appointed as a steward by Business Manager Bruce Getts in 2008. In 2010 Tim was appointed by the Local Union Executive Board as the Local Union Unit 3 Executive Board Member to fill the vacancy created by the retirement of Jay Staley. In July 2011 Tim was elected to the position of Executive Board member for Unit 3 and also elected to serve as a delegate to the 38th IBEW International Convention in September 2011. Tim is currently serving on the IBEW Negotiating Team for MIFA 2.

Tim has been married to his wife, Kacie since October 2010 and they have one daughter Abigail, one year old. Tim, Kacie, and Abby live in Shelburn, IN. Tim's hobbies include hunting and raising cattle.
Executive Board Member Unit 4
Jerrod Carlisle
Executive Board Member Unit 5
Jason McGee
I have been an active union member for 16 years as a member of IBEW, Local 481 (1999-2001), CWA, Local 4900(2001-2012) and IBEW Local 723 (2013-present). I have been an active steward for 14 years. I am currently employed by CenturyLink as a Service Technician in Franklin, IN. I am proud to serve Local 723 as the Executive Board Member for Unit 5 (CenturyLink), as a steward, CenturyLink Bargaining Committee Member, and as a delegate to the IBEW Telephone Coordinating Council 3 (TCC-3) for CenturyLink. I also serve as a Local 723 delegate to the Central Indiana Central Labor Council.
My hobbies include fishing, hunting, and photography. I am married with two energetic young children.
Bookkeper/Secretary
Nancy Bay